Honorary Distinction for Vassiliko Cement Works by the European Agency for Safety and Health at Work (EU-OSHA)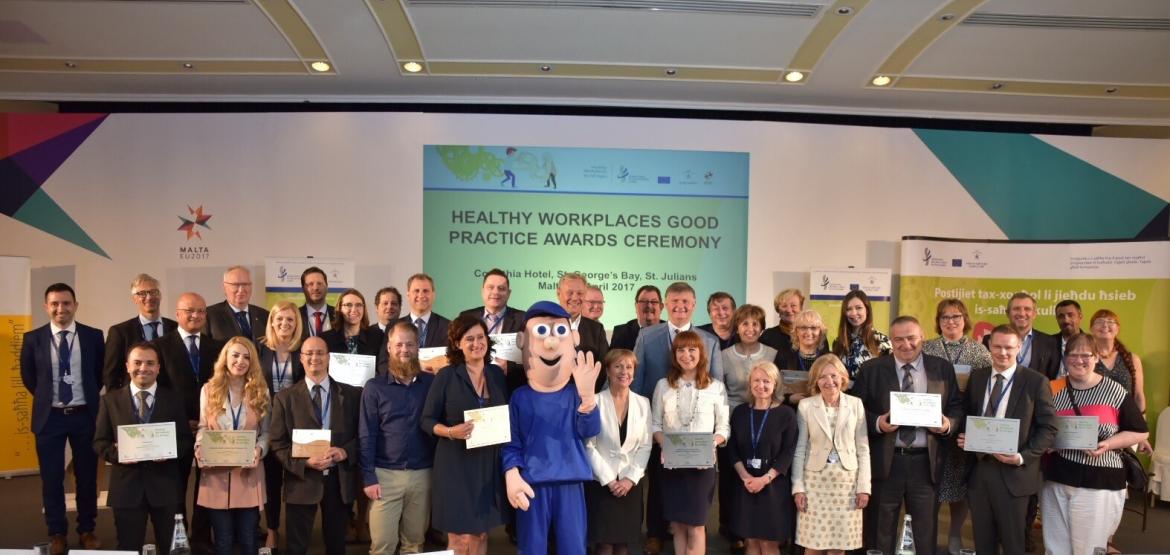 Vassiliko Cement Works, representing Cyprus, was granted the honorary distinction for the Best Practices it applied regarding the ''Management system of ageing employees'', on April 26, 2017 in Malta by the European Agency for Safety and Health at Work.
Our company was represented by Mrs Pagona Liggou and Mrs Maria Evdokimou who received the distinction.
During the event the most important European paradigms of the competition were awarded and were honored and the achievements of all participants were celebrated. The winning companies had the honor of being listed in a special form that will be distributed across Europe, while at the same time these companies have been promoted by the European Organization's website (https://healthy-workplaces.eu/en).
The European Agency for Safety and Health at Work is carrying out Campaigns for Healthy Workplaces of two-year duration, with the contribution of the institutional bodies of the EU and the European social partners, under the coordination of the Organization's Network focal points at national level.
Vassiliko Cement Works applies the international standard OHSAS 18001:2007 in all sectors of its operations and contributes decisively to preserving strong human relations and to providing best work practices to its personnel. The company already numbers three awards by the Ministry of Labor in Health & Safety issues at the Workplace, including the 1st Award on the subject: "Elaboration of an Integrated Management System for Ageing Employees, taking Organizational, Educational and Technical Measures" delivered in October 2016.
The European Best Practices Awards constitute an important component for every similar campaign. The competition is organized by the The European Agency for Safety and Health at Work in cooperation with the Member States and the rotating Presidencies of the EU Council in order to acknowledge the exceptional and innovative contributions in the sector of Health and Safety at Workplaces. They also serve as best practices exchange and promotion platforms across Europe.
Vassiliko, May 04, 2017